For the world's worst-performing economies, no good will come from New Year's resolutions to do better. For many, 2016 will only bring more disappointment, say economists surveyed by Bloomberg.
Oil-rich Venezuela will contract by 3.3 percent this year, the worst forecast of any of the 93 countries in our analysis, followed by junk-rated Brazil, debt-laden Greece and commodities-ravaged Russia.
Below are the bottom 10:
The Recession Club
The club no one wants to join has some surprises. Among the nations with a 50-50 chance of two quarters of contraction is Taiwan. Its annual growth rate slow dramatically from 4 percent in the first quarter of 2015 to minus 0.6 percent in the third quarter due to a slowdown in exports to China.
Even with expected growth this year of 1.2 percent, Ukraine, one oflast year's worst performers, is still at risk. Economists rate its chance of recession over the next 12 months at 60 percent, the third-highest tied with Argentina.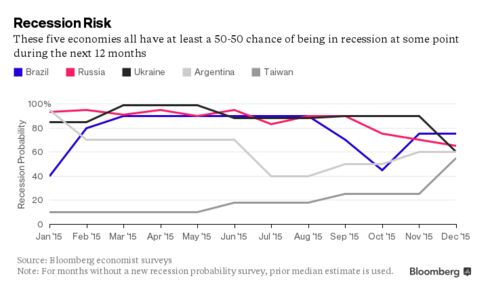 Latin America
The outlook is dire for bottom-ranked Venezuela: from shortages of basic goods such as medicine to the collapse in the price of oil, which accounts for 95 percent of the country's exports, the nation is looking at a third straight year of negative GDP. The opposition party taking over congress for the first time in 16 years offers brave investors a glimpse of good news.
The situation doesn't get much better elsewhere on the continent. Brazil's 2016 GDP forecast combined with last year's drop puts the country in its deepest recession since at least 1901. Two major credit rating companies have already downgraded its sovereign debt to "junk" status.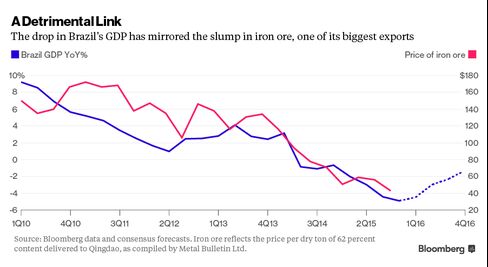 Next door in Argentina, newly-elected President Mauricio Macri is steering the country in a new direction to dodge economic catastrophe and prevent a drop in GDP this year. Sworn into office last month, he has already begun to implement measures aimed at bolstering growth and reigning in the country's fiscal deficit.
Europe
Greece did not get booted from the euro and managed to recapitalize its struggling banking sector, yet 2016 is still full of challenges. The economy will shrink by 1.8 percent, making the hundreds of billions of dollars Greece still owes that much harder to pay off. Serious debt relief will still prove to be elusive. Add to that the strain on its borders of migrants fleeing violence in Syria.
Russia will stay in negative territory after contracting about 3.6 percent in the first nine months of last year, but will also turn the corner on what will likely be its longest recession in over two decades. Sanctions from the U.S. and European Union as well as low oil prices, which account for 40 percent of the government's budget revenues, took their toll.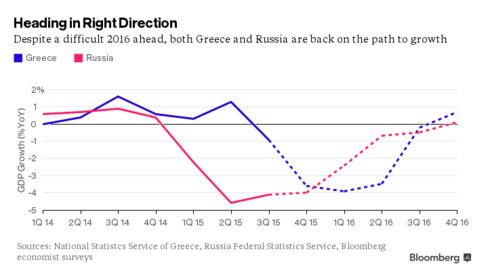 Finland and Switzerland also made the expected list of 10 worst performers for 2016. The former suffers from its geographic proximity and economic reliance to Russia while the latter is still reeling from a surprise central bank decision to drop its currency cap, which crippled exports and tourism.
Asia
Deflation-pained Japan is forecast to grow 1 percent this year, lagging behind many of its neighbors who made the projected list of 2016's best performers. The country's Cabinet recently approved a record budget for next fiscal year, betting that fiscal stimulus and labor market reform will boost growth.
Current forecasts are the median estimate from each country's latest survey conducted between Oct. and Dec. 2015, bringing the total number of economies surveyed to 93.